1934 Early School and Students, Viewed facing N.W 39th St. (Pictured Above)
The following article supercedes any story, rumor or myth concerning the establishment of Putnam City Schools. In 2013-14, the Putnam City Schools Museum Committee exhaustively researched school district origins and published them in the Putnam City Centennial book. Recently, committee members decided to present a monthly online article we think will interest you. Here is our first piece. We encourage you to share it with anyone who you think will be interested.
Putnam City Schools' real history may surprise you
Two stories are frequently told about the beginnings of Putnam City Schools. One of them claims that Israel M. Putnam donated the land on which the first Putnam City school was built and asked that the school district be named for him. The other is that Putnam City, named after Putnam himself, was originally the State Capitol of Oklahoma, at least for a short period of time. Here's what actually happened.
In 1901, Israel M. Putnam moved from Georgia to Oklahoma, planning to practice law. He soon realized that land development could provide opportunities to make money and in 1902, he founded the Putnam Company.
By 1907, he had become a business leader who had developed a number of housing additions, among them Putnam Heights near N.W. 36th and Classen Boulevard on the north side of town. That year, he was elected to the legislature and served a two-year term.
In 1909, he built a large building, at what is now N.W. 39th Expressway and State, that would later be called the Arnett Building, named after Eugene Arnett who eventually owned it. When the building was being con­structed, Putnam had brochures printed calling it a "business block" and began selling stock in the Putnam City Company, Putnam's land development headquarters. One supplier of construction materials was Minnetonka Lumber Company.
Also in 1909, Putnam entered into a partnership agreement with John W. Shartel, Henry Schafer and Anton Classen. The three invested in the Putnam City Company. Shartel, Schafer and Classen owned the Interurban Railway and agreed to provide on-the-hour trolley-car service to and from Putnam's new building every day from 6:30 a. m. until 10:30 p.m. The stop was called "Putnam City" because Putnam planned to extend his property and form a township he wanted to call Putnam City. Putnam also began buying land along the Interur­ban rail line on the route that ran from north Oklahoma City west to El Reno.
Shartel and Schafer started buying land in the area Putnam had platted to become Putnam City. M.F. Owens and the Military Park Development Company were also buying up land for Putnam City Company.
Sometime in 1909, Minnetonka Lumber Company began demanding approximately $600 that Minnetonka Lumber Company said Putnam City Company still owed for construction materials. Minnetonka took Put­nam City Company to court for that money plus interest. In 1912, the debt was paid and the lumber company dropped out of the lawsuit
In 1910, Putnam sent a proposal to Governor Charles N. Haskell and members of a State Capitol Commission — appointed by the governor — that the Capitol complex be established on land Putnam would donate. That land was east of the area being platted for Putnam's proposed Putnam City township. Business partners still included Shartel, Schafer and Classen. Putnam's offer was to sell the state a 2,000-acre tract of land for $1. The state would keep 80 acres as a free, donated Capitol site and sell the remaining 1,920 acres to secure the $1.5 million needed to build a Capitol building. Any amount above the $1.5 million would be returned to Putnam. Putnam and his partners could then incorporate the platted Putnam City area, which would become more valu­able property due to its location next to the Capitol complex.
Governor Haskell and the commissioners accepted Putnam's proposal. However, the Oklahoma Supreme Court rejected it November 14, 1910, because the initial bill to locate the State Capitol had not been adopted by vot­ers. A second attempt to get Putnam's Capitol-location proposal accepted involved a special session of the leg­islature, which convened in Oklahoma City, beginning November 28, 1910. The legislature rejected Putnam's proposal on December 14, 1910.
Putnam City Company's land purchases amounted to $302,250 financed by Shartel, Schafer and Classen.
Incorporation papers that would have made Putnam City a town were never filed with the Secretary of State's office.
In 1912, Shartel and Shafer and several others had joined the Minnetonka lawsuit which by then dropped out of the case after receiving $600 plus interest. The cases of the remainder of those suing Putnam City Company were not decided until the Oklahoma Supreme Court issued its opinion July 24,1923, crediting Putnam with $75,000 plus interest because he had not received the promised streetcar service. The court awarded more than $176,000 plus interest to Shartel and Schafer because the court said Shartel and Schafer were entitled to be repaid the money Putnam had received when he mortgaged the property in question.
Before the court had ruled on the case, Putnam City Company had been dissolved in 1919.
Interestingly, Block 25 of Putnam City Company's platted land site — the block on which Putnam City Schools' first school building had been completed by March 1915 — was completely omitted from the court judgment in 1923 and two sheriff's sales, one in 1918 and one in 1924. County Courthouse records indicate Putnam did not own the land and did not sell, grant or donate any land on which a school building or any other kind of building could be built.
In 1933, Shartel's descendants signed a quitclaim deed to Block 25; it was probably requested by the school district. In 2014, PCHS alum, publisher, and attorney Bill Bleakley determined, after examination of courthouse records, that Putnam City Schools had obtained legal ownership of the land "by prescription or adverse posses­sion," commonly translated as "squatters' rights."
___________________________________
*According to the plat prepared — but never submitted to the Secretary of State's Office — by Putnam for his Putnam City township, the township boundaries would have been what is today N.W. 42nd on the north, N.W. 33rd on the south, N.W. MacArthur on the west, and an area approximately three blocks east of N. W. Meridian. The 2,000 acres Putnam and his partners planned to provide for the State Capitol would have begun on the eastern boundary of the proposed Putnam City township and would have expanded to the east.
* Because Governor Haskell and the State Capitol Commission had accepted the Putnam proposal to build a State Capitol near the platted Putnam City, some individuals believe the land on which the school district was established in 1914 was, for a short time, the State Capitol. Because the proposal was rejected by the Oklahoma State Senate on December 9, 1910, others cite the illegality of that claim.
*In 1914 the first Putnam City students attended classes in the building that had been the location of what was the headquarters and "business block" built by the Putnam City Company, later known as the Arnett Build­ing. The actual first Putnam City school building was completed in March 1915, eight years before the
Oklahoma Supreme Court ruling in 1923.
*A picture of the 1933 quitclaim deed to Block 25 is included on Page 9 of the Putnam City Schools
Centennial book.
This article was written by Gloria Quaid with considerable help from Marcia Feisal,
David Stinchcomb, Beverley Stinchcomb and Sheron Rodgers.
Come visit the Putnam City Museum!
The Putnam City Museum is the finest, most complete school museum in Oklahoma. We invite you to visit us any Saturday between 10 a.m. and 2 p.m. The museum is located at N.W. 40th and Grove. If you want to schedule a tour, please contact David Stinchcomb, jas-cat@sbcglobal.net or Marcia Feisal,
mfeisal77@gmail.com. If you have questions about this piece of our history, please email Gloria Quaid,
gloria@gloriaquaid.com. For more information about our 109-year history, a limited number of Putnam City Centennial books published in 2014 are available for $25 plus a $6 mailing fee. And, of course,
volunteers are enthusiastically welcome to join our committee.
Committee members include Sherry Boyd, Marcia Feisal, Angie Howerton, Kyle Howerton, Bernice Lockhart, Jayne Manley, Kent Mathers, Alyx Picard, Gloria Quaid, Fred Rhodes, Sheron Rodgers, Mike Rogers, Jim Shields, Jackie Simpson, Beverley Stinchcomb and David Stinchcomb.
I.M. Putnam
Born on December 29, 1873, in Early County, Georgia, Israel Mercer Putnam liked to describe himself as a direct descendant of his famous namesake, the American Revolutionary War general who had helped lead colonists at the Battle of Bunker Hill. The original Israel Mercer Putnam is said to have advised his men not to fire at advancing British troops until they could see the whites of their eyes.
In fact, Putnam was only a collateral descendant of his famous ancestor but he, too, had his talents. He attended school in Tennessee, graduated from Vanderbilt University in 1899, attended law school at the University of Georgia and, at the turn of the century, heard about ripe new opportunities in Oklahoma Territory.
Putnam traveled to Oklahoma City in 1901, originally intending to practice law. But the biggest and best commodity – in a growing community inside a territory angling for statehood – was land. By 1902, Putnam had founded his own land company to take advantage of that opportunity.
By the year of Oklahoma statehood, 1907, Putnam was among Oklahoma business leaders. He had successfully developed housing additions on the growing city's north side. It included the Putnam Heights community that still bears his name; it is near N.W. 36 th Street and Classen Boulevard, which was then the north terminus of the city streetcar line.
A nearby park, later renamed Memorial Park, originally bore his name as well. Putnam foresaw future growth patterns and began buying land along the north and west, all the way to El Reno.
There are other chapters in I.M. Putnam's life, although no evidence exists that Putnam had any involvement in Putnam City Schools. Putnam shifted from real estate development to banking for a time, only to be caught up in disastrous bank failure.
He later moved to San Antonio, Texas, but he was still a dreamer, advancing a scheme to create a "self-employment university" near the school district. That plan went nowhere, and Putnam died in 1961, many of his dreams unfulfilled, but with a legacy firmly in place.
Information for this biography is taken from the Putnam City Schools Centennial book, Page 6.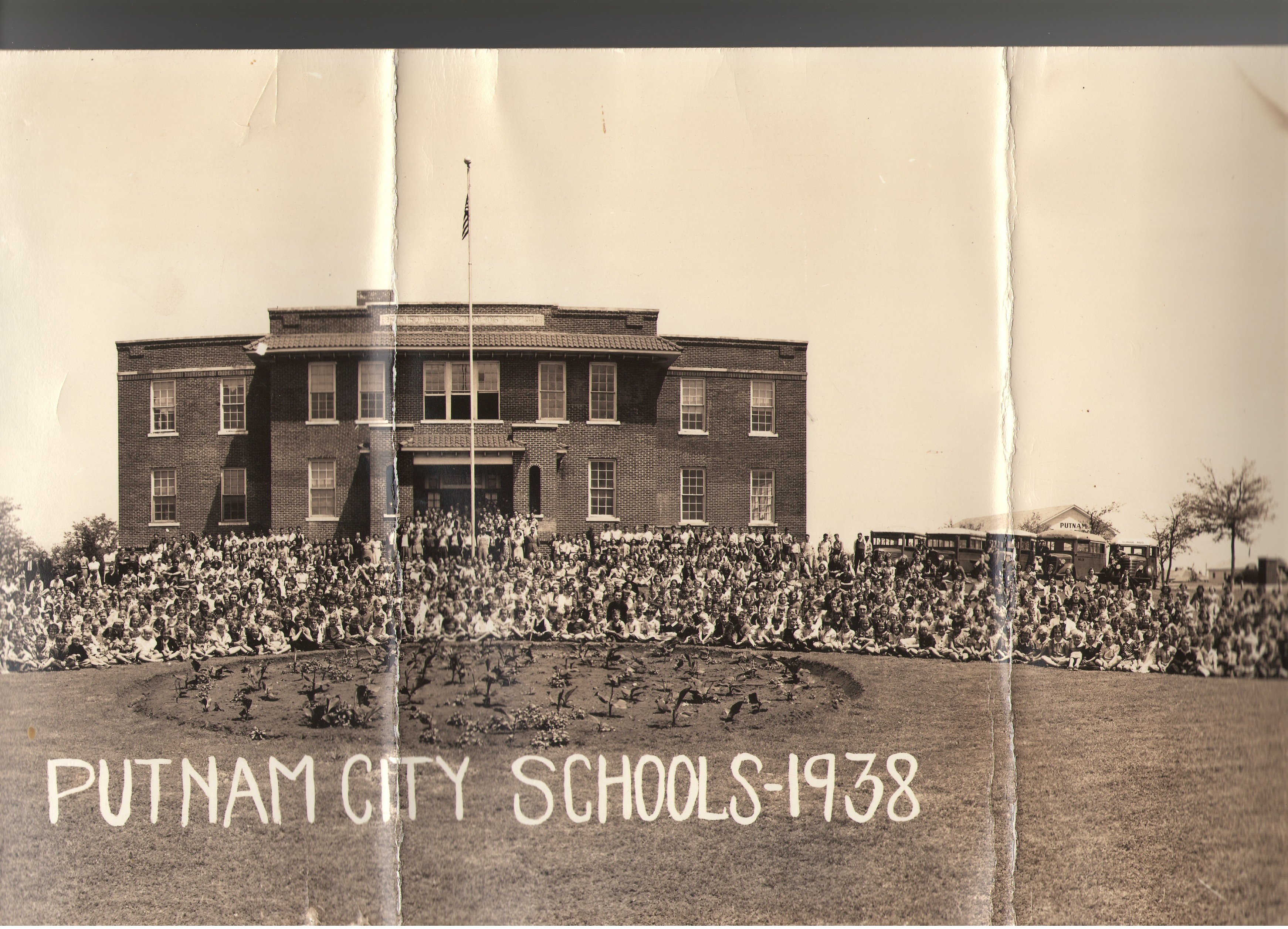 In 1914, taking a first step toward the scholastic excellence that became Putnam City Schools, the pioneer residents of Council Grove Township voted to consolidate into School District #1.

The conditions of consolidation in order for schools to receive state aid were: (1) consolidated area of at least 25 square miles, (2) have a building with at least three rooms, (3) have at least 130 students: employed as many as three teachers; and have school organization in existence at least six months. Original consolidation involved four one-room schools holding class for grades one through eight. These included Central School, N.W. 23rd and Rockwell; Ozmun School, N.W. 23rd and Portland; off School, N.W. 63rd and Rockwell; County Line School, Wilshire and County Line Road.
For the 1914 school year classes were held in the I.M. Putnam Building, which became the Arnett Building in August 1916.
In 1915 classes were first held in the new two-story building at 40th and Grove, (Stop 9 on the Interurban) with 160 students and six teachers in attendance. Four horse drawn vans were provided to transport students living at least two miles from school. There was a stable shed near the school for horses that some students rode to school. Some rode the Interurban. The first motorized buses were used in 1922.
The first graduating class of three students was in 1919. In 1924 the entire school was still in one building, but then began to spread out with a new high school to the east and an elementary school to the west.
The Christmas season saw catastrophy strike in 1940 when the original school burned. In January 1942, the high school burned and was rebuilt on the same site.
By 1955 the school property spread from near MacArthur to Ann Arbor, included the Arnett Building and allowed room for a sports stadium.
By 1957, changing demographics prompted the beginning of a building program away from the original campus with construction of Kirkland and Hilldale grade schools. This changed the Putnam City School System from Consolidated District #1 to Independent School District #1. Continued growth necessitated a new high school at 50th and Ann Arbor which opened in 1958. By 1967 graduation classes had bulged to nearly 1,000 students requiring a second high school, Putnam City West, which opened in 1968, and a third, Putnam City North High School, in 1978.
By the school year 2000, Putnam City Schools had enlarged to 18 elementary, five middle and three high schools, plus the Academy for those requiring a special learning environment. The total school population was more than 19,000. There were approximately 1,300 teachers, 27 principals, 50 counselors, 108 librarians and aides, 25 nurses and aides, 228 custodians, 20 campus police officers and 80 bus drivers.
FOR MORE history and more details visit the museum and read these articles.
- The history done by Janelle Lee Williams Miller, '58 for the 1998 Directory; the history done by Paul Long (1945) for 2004 Directory
- 75th anniversary history of Putnam City schools, edited by Glora Quaid;
- Living history stories told by Leo C. Mayfield;
- Notes and stories of A.C. Carlson;
- Local Newspapers: Putnam City News Review 1926?-1947/ Northwest News 1967-1982/ The Tribune (their successor)
-1963 to 1982 Hi Lite Magazines edited by Gloria Quaid (1963)
-
Purchase a Centennial Book HERE
Original Arnett building before and after fire.

Pictures of old school and 1939 aerial map. Photo of items collectd by the original Preservation Society who started collecting them for future alumni to see.